Travelogue #1: An Unforgettable Trip to Mendoza
***This is the uncut version of an article originally published on www.thetaste.ie in February 2018***
Welcome to our Travelogue...
After spending respectively 5 and 7 years on the beautiful Emerald Island, it wasn't an easy call for us to leave it. We had been feeling the lust for adventure for a while but between the dream and the active decision to go, a good few months had passed. Eventually, it took a bottle of wine (the second one) by the fireplace in June to take the big step. We had saved a good bit of money, planning to exchange it for a house and a mortgage, and it appeared to us that we might as well blow it all on a 1+ year trip around the world, meeting all the great people behind our two biggest passions in life: food and wine.
I'll pass over the details of how we went from "hangover" day 2 to "road trip" day 1, but a little later we had purchased a camper van, drew an itinerary through 3 continents, launched our website and left our jobs. So, here we are now, on the road with no home of ours, and here is our travelogue.
The Incredible Mendocinos
To open this diary, So' & I have decided to take you to one of the highlights of our trip to South America: Mendoza, Argentina. With our background in wine & olive oil, the region already started pretty well from afar, but it's only when we got there that we truly fell in love with it! Let's go back to the very beginning: how did we get there?
We took a 19-hour bus from the colourful city of Buenos Aires, which is quite the norm while travelling through such a huge continent as South America. However, the fact that the air-conditioning unit got broken when set on the coolest temperature really added an unexpected dimension to our ride, bringing all the passengers much closer together. Every cloud has a silver line. The Argentine people are naturally friendly we found, and at that moment, we just got another proof of it.
A long-haired skater-looking guy in his early 20's leaned over the seat behind us and started to ask us what had brought us to his city. He was a very proud Mendocino (like all of them, we found out later) & his name was Gustavo. We spoke about red meat, red wine and even beer since the place is packed with local brews. At the end, we got off the bus together & he walked us to the cheaper taxis around the corner from the station. He got in with us and shared the ride only to make sure that we'd find our hostel. In the meantime, we had asked for some advice on where to eat good cheap food on a Sunday and he took our number down for further thoughts.
About an hour later, we received a message from him saying "I thought a lot about what you asked and I honestly think that there's no better Sunday Lunch than my dad's. Come around my house today." This is how we met the Cortis, an incredible family with Italian roots who settled down in Mendoza about 4 generations ago. We ended up eating with them 3 times that week (including the most incredible Asado of Argentine meat in a field up in the Mountains). The most incredible part is that they're probably no exception. The Mendocinos are proud of their land, wines & cuisine, they are open-minded and love to share it with travellers.
A Little Bit of History...
From a historical point of view, the many influences that Mendoza received make it an unbelievable place to visit. Wine wise, the first plantings occurred with the arrival of the Spanish missionaries, bringing along a deeply coloured red varietal called País. Mostly used for poor quality altar wine or sometimes as a blending varietal, it would have led to the mass production of really bad stuff if the next wave of immigration hadn't happened. For the delicious vino we drink today, we have to thank the Italians.
The massive Italian immigration of the 19th and early 20th centuries saw many winemakers from the Veneto region and Genoa increase the quality of the local batches, far from having international ambitions, they just wanted good stuff to drink with their meals. With a better understanding of the soils & a greater experience, the results could quickly be seen.
Eventually, rich factory and land owners started drinking wine too, and fantasizing about having their own vineyard. Back in the day, Argentina was craving for Europe to recognise it as one of its kind, bringing top architects to design the little Paris of South America in Buenos Aires. With Bordeaux proclaiming its top crus in the famous 1855 classification, there was nothing more obvious than to create the little Bordeaux of South America! Here comes the last great influence of Mendoza: the French! Bordeaux varietals were planted: both Cabernet (Sauvignon & Franc), some Merlot and a nearly extinct one that would become the country's flagship: Malbec. As in Bordeaux, a careful use of French oak was put in place, slowly shaping the wines we enjoy today in top Dublin's restaurants and across the world!
Arauco: Argentina's Own Olive Varietal
Olive, the little sister of the vine, doesn't have to be jealous. In fact, Argentina is the only country in the world to produce olive oil from a varietal that's not Native to Europe. Arauco (that's its name) is a bit like the Phoenix, it was born from the ashes of the failed destruction of all Argentine olives.
The cultivation spread at the end of the 16th century, while the country was under Spanish influence. Unfortunately, at the start of the 17th century, Charles III, King of Spain, realised how much of a competition Argentine olive oils could be to his own production. So, he decided to give an order that would mark the country's History forever: cut off all the olive trees to stop production!
The story goes that some farmers, benefiting from the corrupt system in place, managed to beg the authorities to allow them to keep 1 or 2 trees for their own consumption. With centuries of natural crossings happening between olive trees to survive, a new varietal was born, perfectly suited to the Argentine arid climate: Arauco.
For all these reasons, we were thrilled about going to Mendoza. And one thing I can tell you, we haven't been disappointed!
The one thing that might disappoint you if like us you thought Mendoza was a city is to find out that it's also a region, a huge one! If you go backpacking that way, make room in your budget for a rental car (if you like blowing the horn constantly and swearing behind the steering wheel) or for a private chauffeur. Since our plan was to go wine tasting and my license had been stolen (this is another story), we opted for the second option.
First stop: Pulenta Estate
Pulenta Estate is located in Lujan de Cuyo, the Historical top terroir of Mendoza. It was founded by the former owner of Trapiche, historical producer in Argentina, who was also the first importer and distributor of Porsche in the country. Not a small operation, but a state-of-the-art quality-driven winery. Two brothers run the estate today. The single vineyard surrounds the modern winery, with a tasting room overlooking the jaw-dropping Andes mountains.
The whole bodega is a pure jewel, from the perfectly aligned rows of vines that run miles away towards the Andes to the pristine equipment surrounded by 2 brand new Porsche engines and the last engine built by Ferrari in formula 1. All just sitting there on display, because cars are the family's second hobby.
The wines, they are just spotless, with a great sense of terroir wrapped in a gentle coating of oak. Our favourites: Gran Malbec X and the Gran Cabernet Franc XI.
Both wines are made from a single vineyard, with a long 18-month ageing in New French oak. Offering a deep complexity and seductive notes of dry spice, chocolate, violet and plum, the Malbec would be the best partner to a juicy steak of Irish Dexter beef. The Cabernet Franc on the other hand, new star grape of Mendoza, is a spicy winter warmer packed with hints of cinnamon & clove, opening to touches of black olive and soy sauce, definitely a premium choice for Kerry lamb or your next Christmas dinner. I don't think anybody takes these exclusive beauties in to Ireland yet but if you don't want to fly 11,000 kilometres for a bottle, top specialised wine shops should be able to bring it in from the UK at around €45 a pop.
We left blown away, heading to our next stop: the Familia Cassone.
Second Stop: Bodega Familia Cassone
Full disclosure here: I got to know the wines of the Familia Cassone by working for their Irish importer back in the day. More than just a product in our catalogue, it felt like there was something special about them altogether. One of the many Italian families that had settled down in Argentina and planted vines on the fantastic soils of Lujan de Cuyo, in a small town called Mayor Drummond.
Still to this day, the wines are produced from 90+ year-old vines and taste like passion and commitment. A family-ran business where time is no object and where keeping the standards as high as possible is a matter of pride. From the second you enter the Bodega, these old witchcraft-looking vines stare at you, with their dark trunks twisting in all directions, looking like they've been here forever. Guarding the vines are some old olive trees, their canopy splitting into four trees. Once again, the biggest player here is Malbec, followed by the traditional Bordeaux varietals. The area was the first one in the country to receive DOC status, meaning an official recognition of the highest quality of the land for growing wine grapes.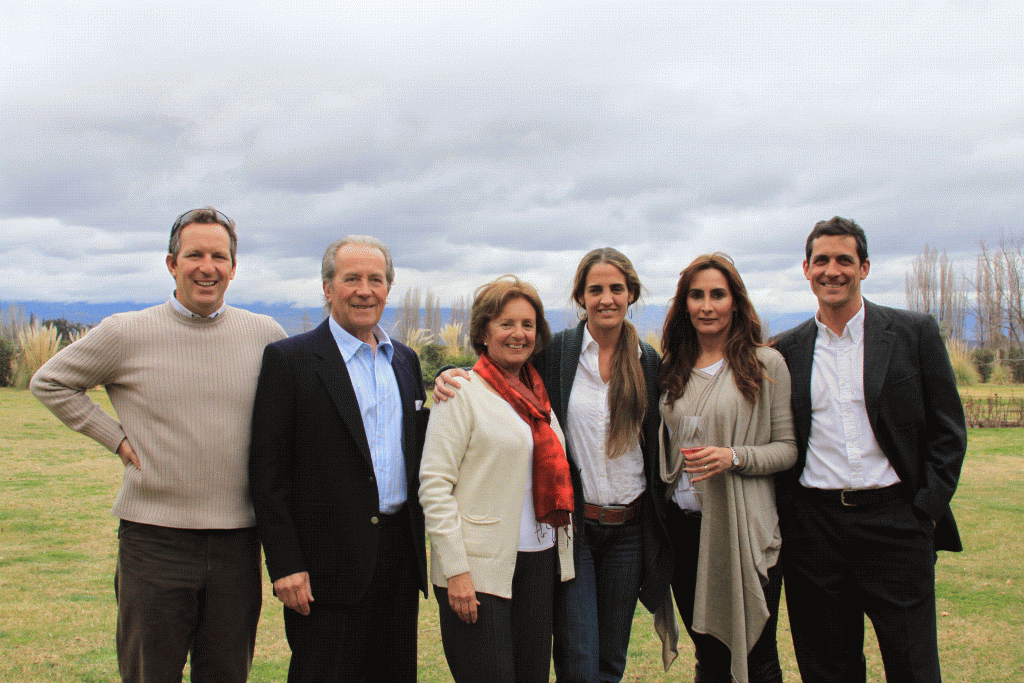 The owner explains that having such very old vines to look after isn't an easy task. Modern training techniques would kill them, so the estate can only reproduce their ancestors' skills for the vines to survive. Every winter, to purify the soils and protect the vines, the vineyard is entirely flooded under the pure water from the Andes' melted snow, brought here by old canals dug back 150 years ago. In order to maintain the dying oldies, new shoots are forced into the ground for a year, until the day they are strong enough to be cut out from the mother trunk and start a life of their own. A beautiful philosophy with incredible wines.
The winery here is not as shiny as Pulenta and much more traditional. Old concrete vats filled with the fruits of the last harvest overlook the previous year's wines maturing in oak barrels. It feels more artistic than scientific, but the results are clean and very well-balanced. The lady proudly shows us their last big investment, a bottling line to keep up with the increasing demand. The range is broken down into four lines:
Siete Cuchillos Malbec: entry level unoaked fruit-bomb with soft juicy tannins, clearly designed by the former Italians for pizza and pasta!
Finca la Florencia Malbec: mid-range, gently oaked for 6 months to gain a velvety mouthfeel and notes of toffee and vanilla. The berried character of the Malbec & deep complexity of the near-centenary-old vines remains the focus. A versatile wine for all occasions.
Obra Prima Reserva: stands for "masterpiece" and it truly is. There's a Malbec & a Cabernet, both aged for at least 12 months in both American & French oak. The first wood opens with explosive notes of vanilla & caramel while the latter leads to a never-ending finish of nutmeg, clove & cinnamon. Beautiful!
Obra Prima Gran Reserva: The golden label & name bring back memories from top Rioja wines in Spain, but this is definitely Mendoza. The chocolatey Malbec is floral & dark-berried with layer after layer of oak complexity. A flinty minerality on the finish reminds us of the old vines, with a bell peppery twist confirming the presence of Cabernet.
The other days spent there were the occasion to visit other terroirs of Mendoza, apart from the famous Lujan de Cuyo, Maipu to the East is another great area with more boutique wineries. The organic Cecchin can be found there with a delicious Methode Ancestrale off-dry sparkling wine (which isn't my type usually). We particularly loved the smaller Bodega Carinae, owned by a French couple who fell in love with the area and settled down a few years ago. The wines are elegant, with a great balance between firm well-integrated tannins, mouth-watering refreshing acidity, fruity/floral bouquet and very light toasty oak notes. The wines aren't available on the Irish market but they are exported worldwide, so keep Carinae in mind for your next travels.
Organic vineyards & olive trees at Bodega Cecchin
Our second mission in the Mendoza was to sample this mysterious Arauco olive and meet the people who turn it into an award-winning oil. We had booked visits with 3 Internationally recognised producers: Olio Lagomaggiore, Familia Zuccardi & Bodega Tapiz.
Long considered the little sister of the vine, olives were the lesser quality plantings that winemakers would use to season their meals and sell to their friends. With a strong Mediterranean influence, Mendoza and the whole of Argentina used it as its most common fat for cooking. In the 1930s, the Government of Mendoza launched a successful campaign that increased the plantings to about 7 million trees. Everything was going well until the 1960's, when vines started receiving much more attention (and money) than olive trees, in the 1970s, an anti-olive oil campaign, led by other vegetal oil producers in favour of their own saw the decline of plantings down to about 3 million trees.
Today, the production is only recovering from this up-and-down path, led by
quality-driven producers such as Jorge Piuzzi, our first encounter. A proud Argentine, speaking a Spanish bathed in the strongest Italian accent, he showed us around the region and drove us to the mill where his olives get crushed. Quite common around the world, these centralised mills allow smaller growers to bring their production and get it crushed and bottled in clean conditions. Jorge is very proud of his oils, and he rightly can, knowing all the awards he's won. His "thing", he says, is to harvest the olives the day the first black dot appears.
Let me explain, olives are all green at the start and eventually, they "turn" black. A dot, first, announces the change and slowly spreads until the berry is kind of dark reddish. Wait a little longer, and you've got black olives. Unlike apples, olives and grapes can turn black on the tree, without falling. The chemical process that happens inside the olive during the change of colour is a key element in the production of a good olive oil. Green olives are very high in polyphenols and anti-oxidants, two very good healthy things for us. However, their taste is very pungent, bitter and green, making you cough when you taste them. Like all fruits, the more they mature, the sweeter they get. Black olives would have lost most of their polyphenols and gained a banana-like sweeter aroma.
Top olive oils are best consumed young and fresh, but that day Jorge gave us a bottle of his 7-year-old harvest. We were a little surprised at first, thinking it was way too old to be good. We tried it when we got back home, coughing and laughing at how fresh it still was! The polyphenol content was so high, it had kept perfectly through the years. The production of Olio Lagomaggiore is tiny, but the quality is very high. We had to see if other producers in the area could keep the standards high with a bigger production, so we headed to Familia Zuccardi.
Famous worldwide for their wine production, the Zuccardis are another family story that started in Italy. The engineer grand-father Alberto started to plant vines in 1963, purchasing top fields in Maipu. Eventually, his son Jose Alberto took over, followed by his three children who still run it today: Sebastian for the wine, Miguel for the olive oil and Julia in tourism.
We were invited to meet with Miguel in Finca Maipu, one of their farms. Headquarter of the olive oil production, 80 hectares are produced organically there, including a farming test lab for experimenting with other plants and understanding their interactions and an impressive olive collection gathering about 100 different species.
We first met the incredible Horacio, the man in charge of the organic gardens. You know a genius when you meet one, he didn't waste too much time in small talks and headed straight to his field. He explained things that would take a whole book to repeat, why he would combine plants whose smell attract bees and flowers whose incredible colours confuse hungry bugs, why he would use a particular type of weed to give nutriments back to the soil. At one point, he stopped talking, looked at us and said "oh god, you have to see this one too, come with me!". And he was gone, with us trying to keep up with the speed! He led us to what looked like an empty field, covered in weed cuttings. He was bursting with pride when he explained that with Mendoza being an arid desert, the top soils were almost instantly dried out under the sun. However, he had found that underground, some water could be found. He had planted a naturally salty weed Native from the area that would suck the water up, and covered the ground with seaweed to keep it cool. The result? An increase in water content with no irrigation! The man was literally turning the desert into a fertile land, just using local plants!
We learnt a lot from that day, especially when the very humble Miguel took us around the olive grove. He was pointing at all the plants that were sharing the land with the olive trees, at one point he said: "In University, we're told that this is weed, that you have to get rid of it. Here, we're still learning and we'll always be, but we found a balance that works, based on diversity". Miguel said that the understanding of their land would take generations, we all sat down in the tasting room afterwards, getting to try the now famous Arauco and others varietals (Frantoio, Changlot…). All so fresh, zippy, clean… With notes of ripe tomato and banana bread, the Arauco was fantastic! It could be done, the production of large enough amounts of olive oil with a respect of both the environment and the produce! We had to zoom in to the process and go look at a smaller Finca again, a premium one too, so we headed to Club Tapiz.
Club Tapiz belongs to the Bodega Tapiz, with a fine dining restaurant and a
luxury hotel resort on site, it's a fantastic location for a relaxing holiday. Since we were on a budget, we decided to stay at a nearby romantic guesthouse, lost in the middle of the vineyards, called Casa Andante. I'd highly recommend considering this option too, the couple who run it are the nicest people on Earth, she's German and he's Argentine, with their young son Milo. The craft beer lovers will love the little bar set-up in the garden, pouring only local brews and making pizza.
Bedrooms at Casa Andante
In Club Tapiz (f**k the budget), we decided to treat ourselves for an incredible tasting menu with wines at lunch time. On the expensive side for the area, it still represents a really good value for what you get. But the most incredible thing there was to meet with Sebastian Correa, the guy behind the world-famous Tapiz olive oil.
His equipment was so tiny, it felt like he was some sort of home brewer with a miniature version of a top-notch mill. He explained how the oil was made and how he had to process the olives between 2 and 24 hours after harvest to make sure he was getting the best. Another very humble artist producer, who introduced himself like so: "Unlike winemakers who make wine, I don't make olive oil. The olive tree makes it, my job is to take it out and try to ruin it as little as possible". We stayed there talking for the whole day, eventually cracking a bottle of bubbly to wash our palates.
We fell in love with Mendoza, there's no other word! We can't recommend it enough to all the foodies out there! Whether you want to stay in a Hostal (budget hotel with access to a kitchen), a hostel or a luxury hotel, there's a bit of everything in there. And if you're feeling thirsty after all your tastings, the local craft beer scene is to die for, they even have machines to seal it in cans from the draught and let you take them home… a real paradise…
Solene Damiani & Maxime Dubois